After a straight year of not blogging, I'm finally back and ready to get back into the swing of things. It's been a crazy year overall: I started a new (and awesome) job, we bought a new (and awesome) house, we took some cool vacations, my kids started middle school and high school respectively…and that's just in the past six months.
So, to ease back into this blogging bidness, I'm doing a "Check out this cool Etsy stuff!" post. And it's secretly a brag post, because these are items I recently purchased and now proudly own.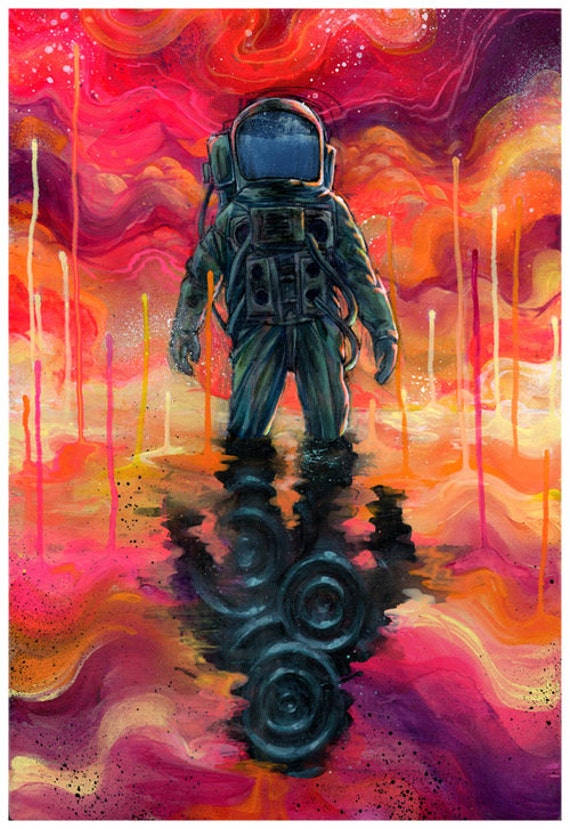 I bought this trippy print for my son, who is into space stuff, in general. I love every part of it, from the colors and patterns to the overall sense of "WhereTF am I?"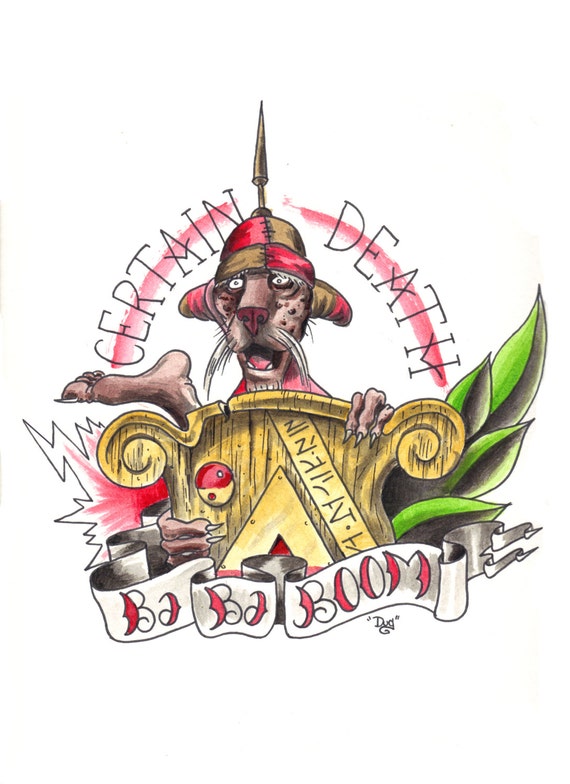 I die every time I see this print, now hanging in my office. And usually, I say that line from the movie (Labyrinth, for the poor folks not in the know). "Ba ba boom! Certain deeeeeeeath!" Be sure to check out the shop for more awesome and hilarious prints. In particular, I'm waiting for the equally awesome "Coffee is for Closers" print, complete with brass balls, to become available again.
The rest of the prints are in a clump in my living room. This is where we have my grandma's old record player/8-track player. So it was only fitting that all of our music-themed art be compiled in this area:
Starting at the bottom-left:
I love the dreamy, retro prints at this shop. I love them so much, I bought three different prints at once and had to restrain myself from buying more.
The next poster is from a concert my husband and I went to earlier this year: Ian Cooke (an amazing local cellist who is best described as playing art rock), Jay Clifford (of Jump Little Children), and other musicians, playing with the Colorado Symphony accompanying them. Amazing music all around.
Maybe it's totally dorky, but these wistful, inspirational posters totally do it for me. I like the positivity and the dreaminess that they convey.
Did I mention I had to peel myself away from this Etsy shop?
Next row up:
As people who love records and beer (and especially records and beer), this is the print that sums up our weekends perfectly. That it complements the other print and poster colors doesn't hurt either.
I actually bought this print with the intention of giving it to my husband, who is a musician and will never buy art for his space on his own. But when I saw how well it fit in with the rest of the prints, I just added it to my growing collection. Mine mine mine.
As for the rest of the pieces, those are the results of years of thrift stores and concerts, with the exception of the girl on the bike (which you may remember from a much earlier post).
So the moral of this post is if you need to decorate a house, you could do much worse than shopping on Etsy.
Tags: artists, decor, etsy, great finds, home life